Chocolate, Chocolate, Chocolate
Drunken Truffles
Drunken truffle selection. Huckleberry vodka, coconut rum, mango passion fruit cordial, orange cointreau, fernet, and pina colada.
Easter Bunny
Bunnies - stuffed with sour gummy bunnies, marshmallow, or jelly beans
Playing with my new cocoa butter colors
Creme Eggs
Yep, the ones with the yolk in the middle, only larger than the original!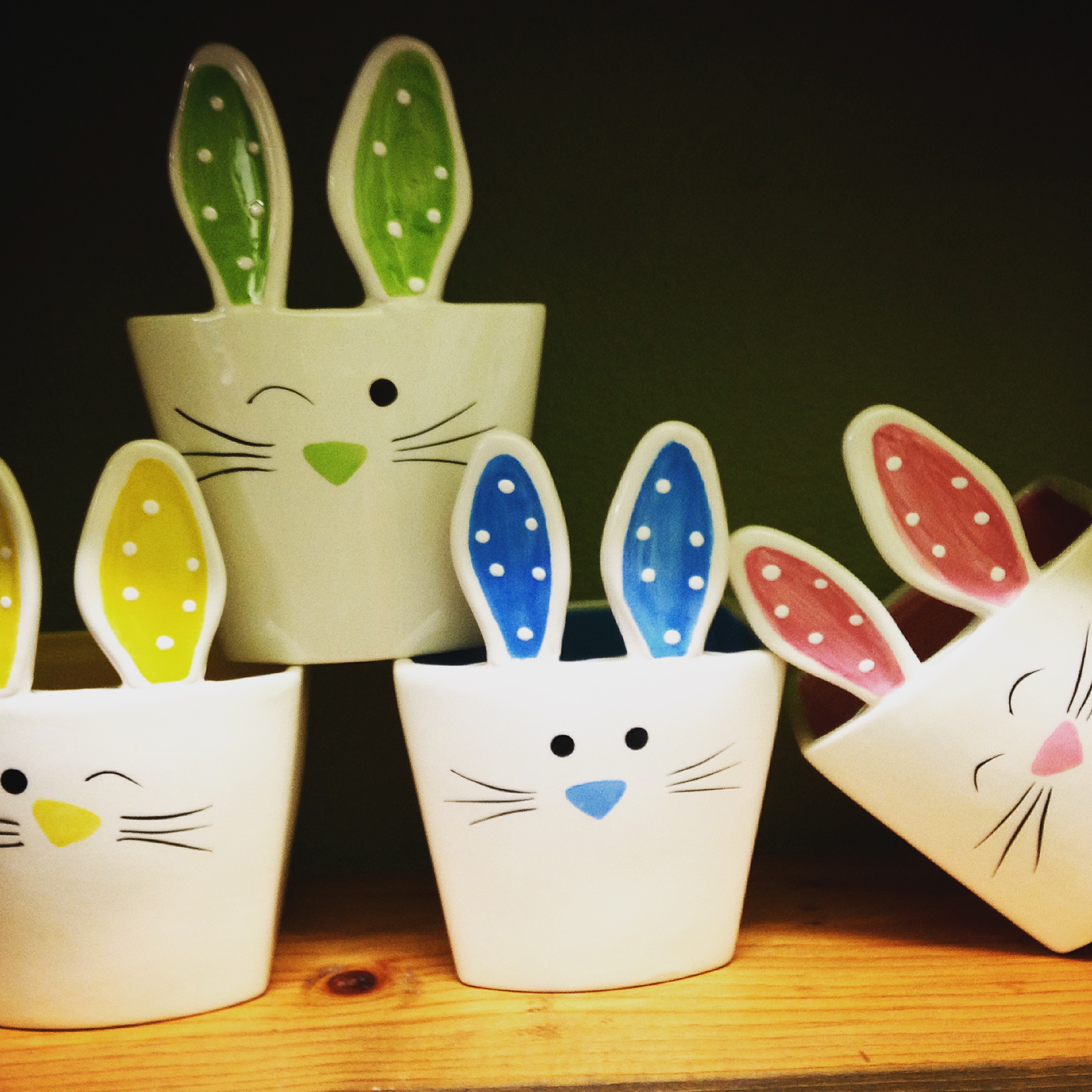 Boise Brewing's Snow Boarder Porter
Final product of Boise Brewing's Snow Boarder Porter truffle. Stop by Boise Brewing and try one today or order on-line.
More cocoa butter practice
Creme eggs in the making.
I learned a few things my first time out. Round two coming up.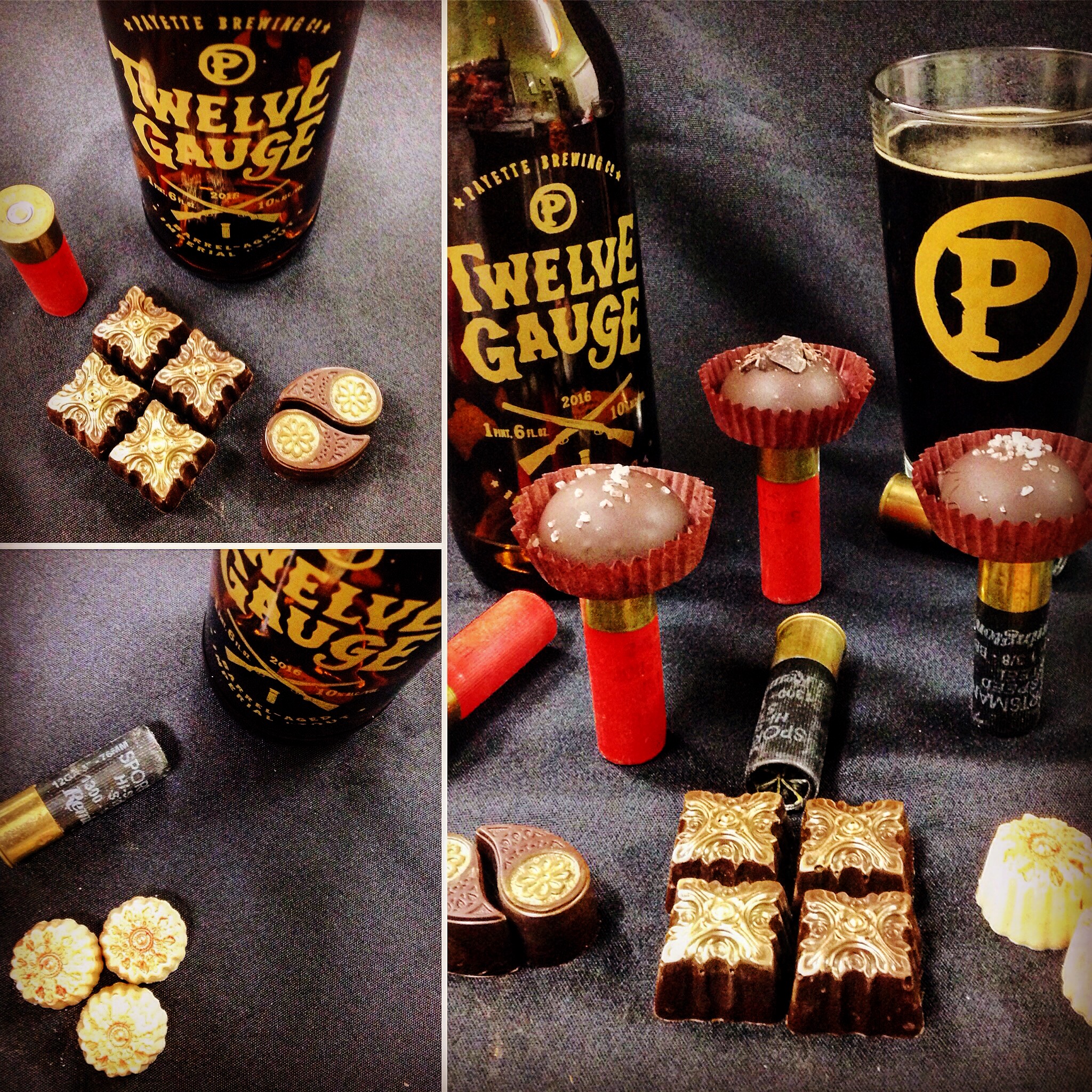 Final Product
Payette Brewing's Twelve Gauge Imperial Stout final product. Not only are they beautiful; they are delicious!
The making of Payette Brewing Twelve Gauge Imperial Stout Truffle
Made with Payette Brewing's Twelve Gauge Imperial Stout - can be ordered in white or dark chocolate.
New Labels
Showing off the new label, thank you Modern Printers, on a caramel order that's headed out the door for delivery.
Cocoa Butter Airbrushing Trial and Error
Learning some new techniques through trial and error and error and error. Hopefully, in the long run the chocolate decorations turn out beautiful.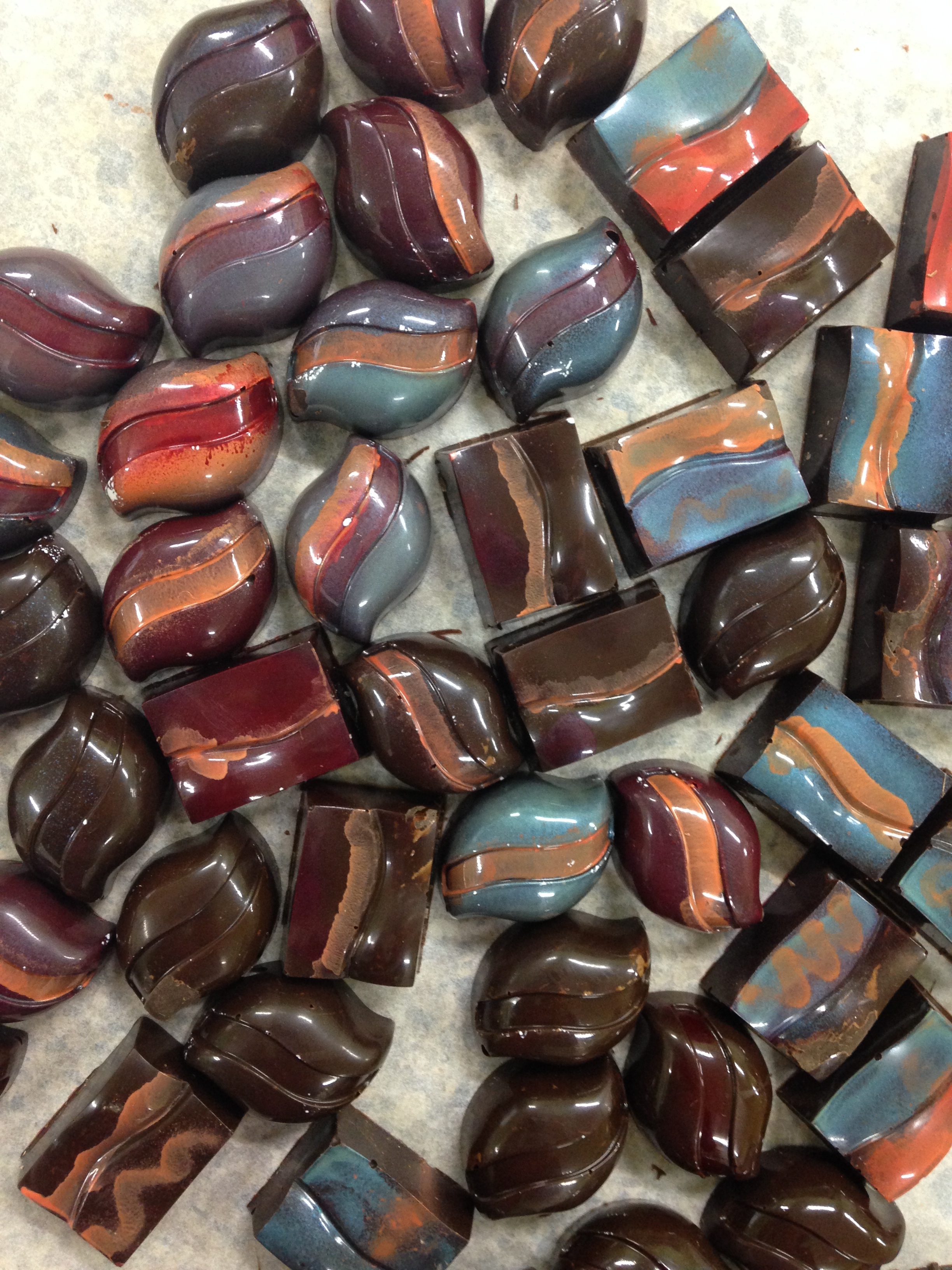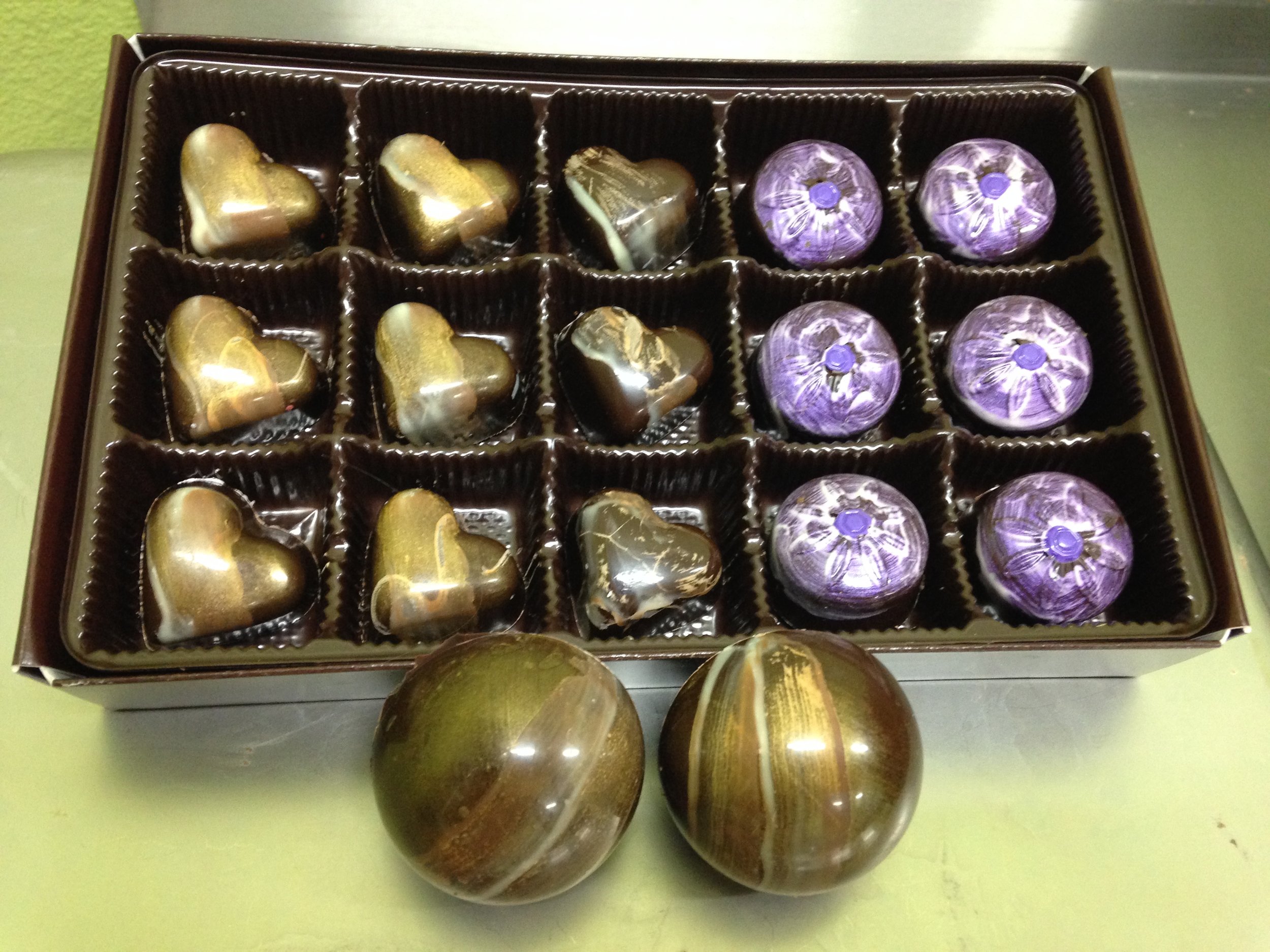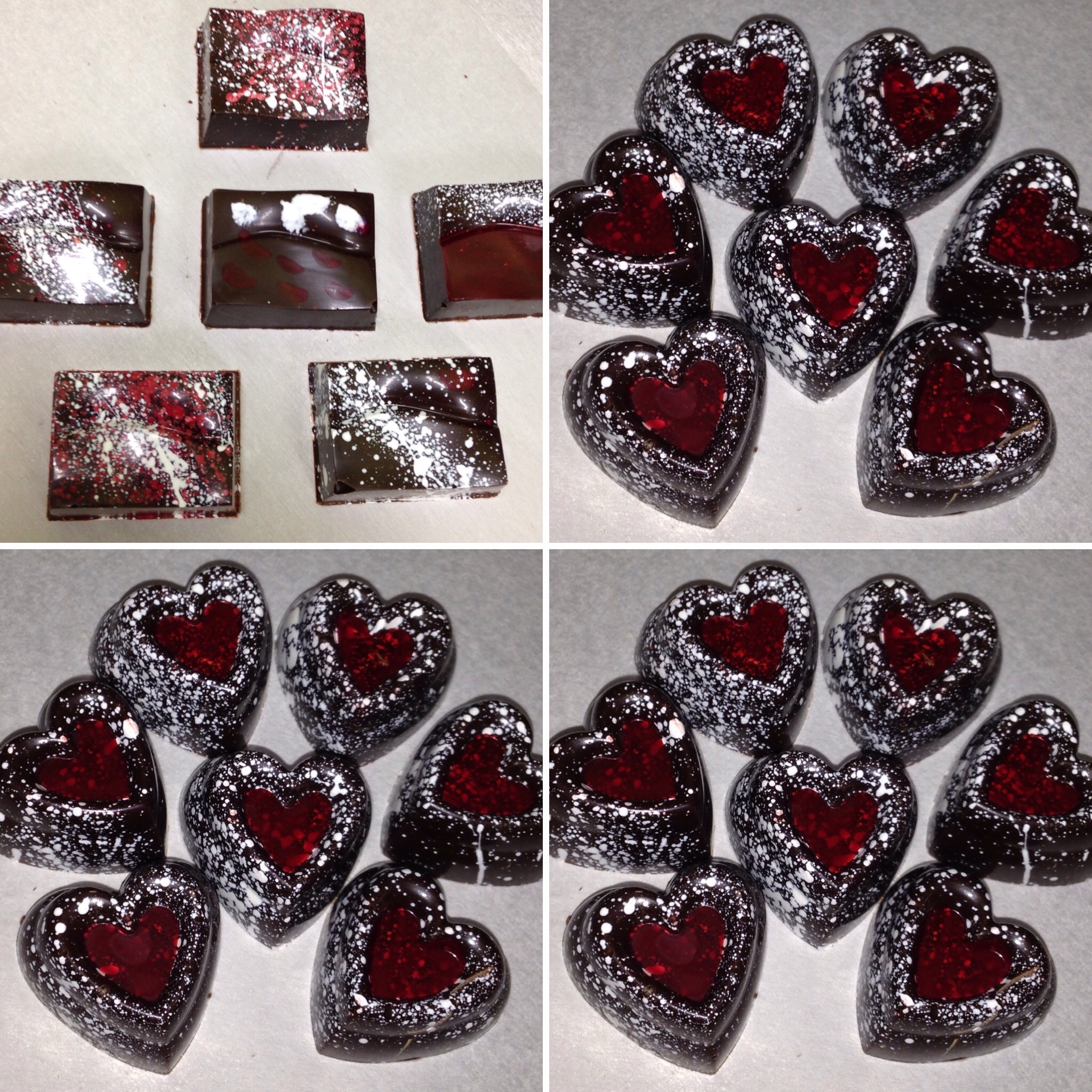 Cupcake Wedding Dress
So proud of my daughters, Kate and Madison! They made this is a best friends wedding shower. I was blow away, beautiful and delicious.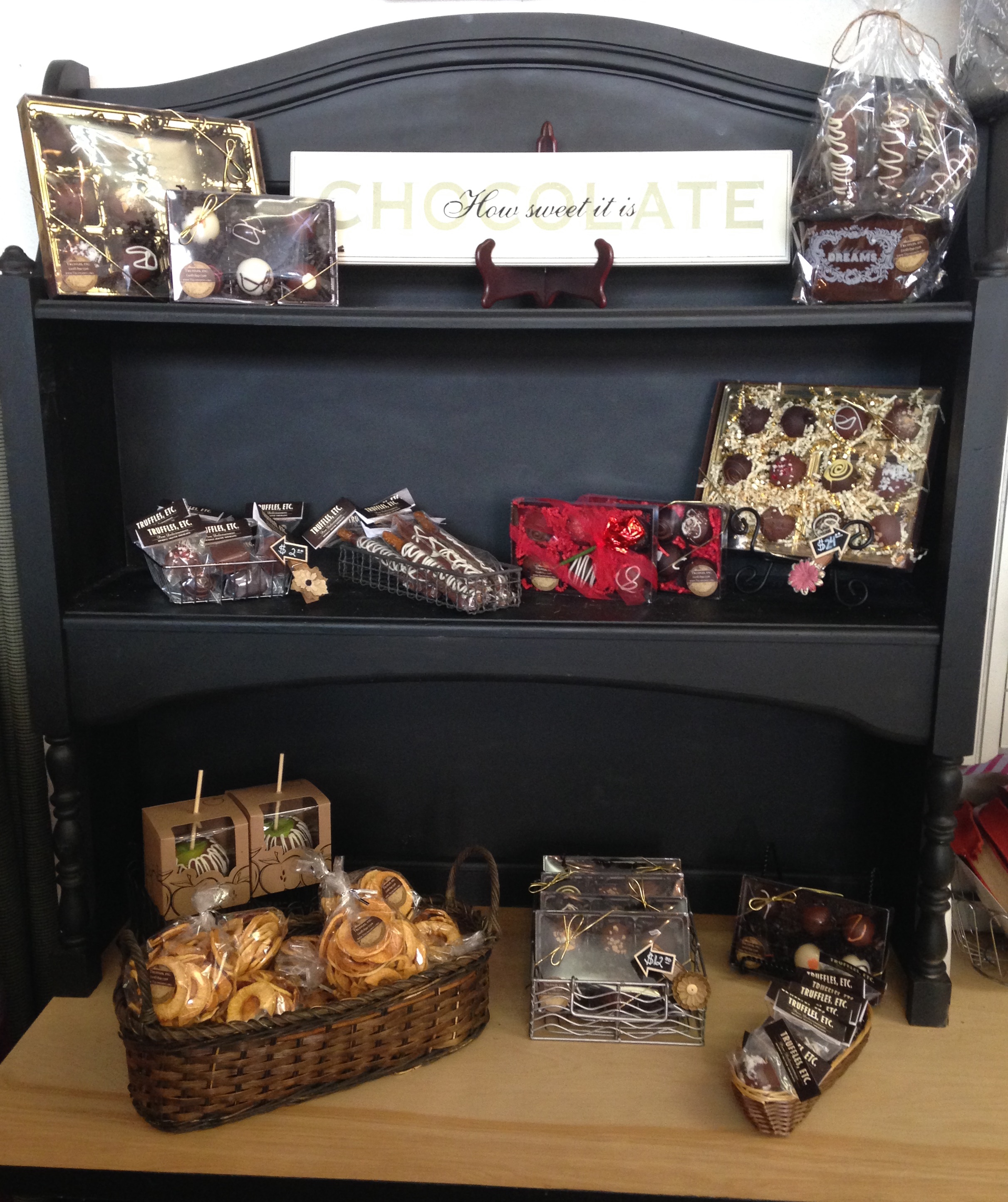 Display at Idaho Made
Here is our display at Idaho Made where you can purchase Truffles, etc locally in Boise at 6th and Idaho.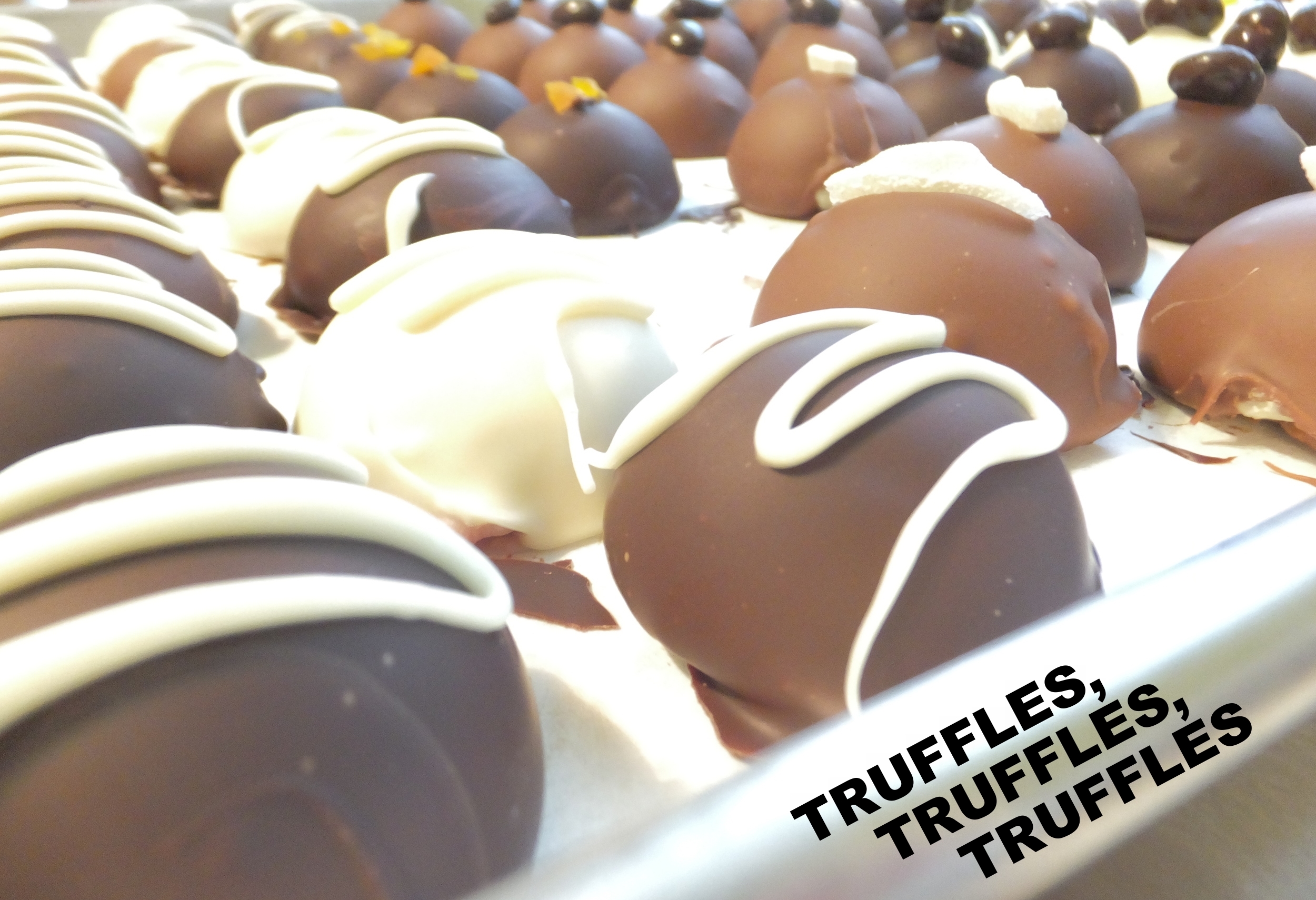 Double Dark Chocolate Liqueur Truffle
This truffle begins with dark chocolate and is then mixed with heavy cream and Dorda double dark chocolate liqueur. Double Dark Chocolate Truffle is only available dipped in our delicious dark chocolate and topped with chocolate sprinkles. Perfect with your favorite red wine.
Espresso Truffle
Our espresso truffle starts with a shot of bold espresso and the we add espresso powder. If this isn't enough caffeine we have added a chocolate covered coffee bean on top. Try this instead of your afternoon Red Bull to keep those eyes open.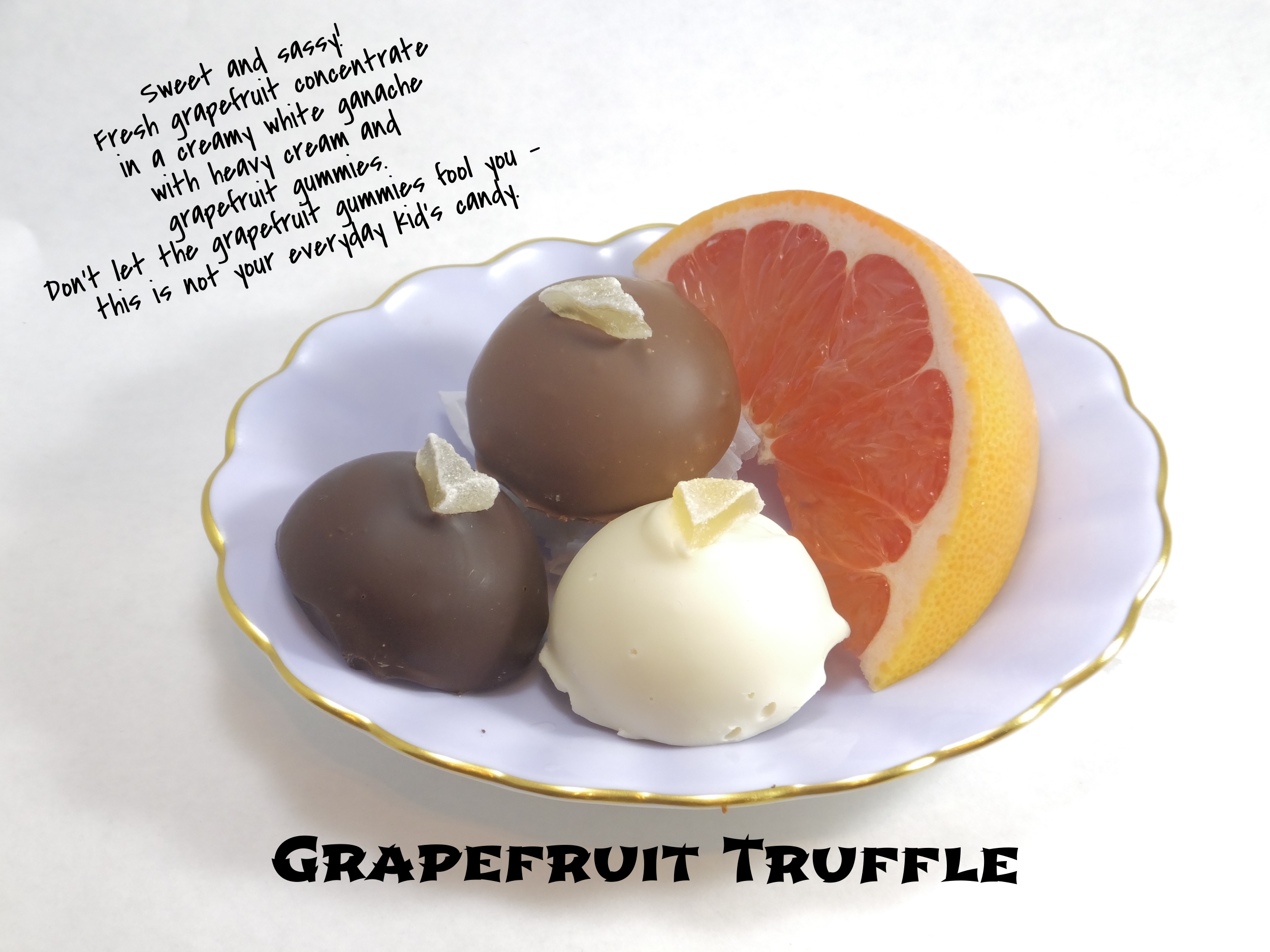 Grapefruit Truffle
Sweet and sassy! Fresh grapefruit concentrate in a creamy white ganache with heavy cream and grapefruit gummies. Don't let the grapefruit gummies fool you - this is not your everyday kid's candy.
Honey Toffee Truffle
This creamy white ganache is made with fresh local honey and delicious crunchy toffee bits.
Huckleberry Truffle
Our huckleberry truffle is made with Idaho state berries picked in-state. With a beautiful purple ganache topped with purple sprinkles. Choose our custom box of six and have two dipped in white, two dipped in milk and two dipped in dark chocolate. A delectable gift that screams IDAHO!!
Kahlua Truffle
This milk chocolate truffle has two ingredients: milk chocolate and Kahlua. It is simply delicious. Perfect for an after dinner treat. Available dipped only in milk chocolate.
Peanut Butter Truffle
Real peanut butter is incorporated into the white ganache and topped with salted peanuts.
Raspberry Truffle
Sweet raspberry concentrate gently folded into a rich white chocolate ganache and dipped in milk or dark chocolate. Yummy!
Strawberry Truffle
Our strawberry truffle is made with real strawberry juice concentrate and topped with a pink pearl. Elegant and delicious!
Chocolate Caramel Pretzel Sticks
These pretzel sticks won't disappoint! First they are dipped in rich creamy caramel and then dipped in your choice of either milk or dark chocolate and then we add a layer of drizzled white chocolate.
Pretzel Marshmallow Caramel
A delicious combination of three of our favorite caramels. A pretzel enrobed in marshmallow and homemade caramel. Has just the right amount of sweet, salty and chewy. Fabulous!
Salted Caramel
Delicious rich and creamy caramel encased in thick dark or milk chocolate with a light dusting of sea salt, wonderful for the caramel lover!